Lauri Markkanen connected from way downtown with a pull-up three-pointer that beat the half-time buzzer during the Chicago Bulls' win over the Cleveland Cavaliers.
With the Hawks leading 66-57 and the end of the second quarter rapidly approaching, Markkanen rose to claim a defensive rebound under his own basket and drove up-court with 5.5 seconds left on the clock.
The Finnish star crossed into the Hawks half and, with time ticking away, had no choice but to pull up well in front of the three-point line and fire from long-distance before time expired.
Markkanen's deep shot left his hand with 0.8 seconds remaining and swished through the net as the buzzer sounded.
Wednesday night's scores
Houston Rockets 114-110 New York Knicks
Toronto Raptors 106-110 Indiana Pacers
Cleveland Cavaliers 102-123 Boston Celtics
Orlando Magic 110-114 Brooklyn Nets
Los Angeles Clippers 111-99 Miami Heat
San Antonio Spurs 120-122 Philadelphia 76ers
Atlanta Hawks 121-101 Chicago Bulls
Charlotte Hornets 118-107 Memphis Grizzlies
Detroit Pistons 98-94 New Orleans Pelicans
Denver Nuggets 108-114 Utah Jazz
He would finish the game with 13 points and eight rebounds as the Bulls took command in the second half to record a 104-88 win.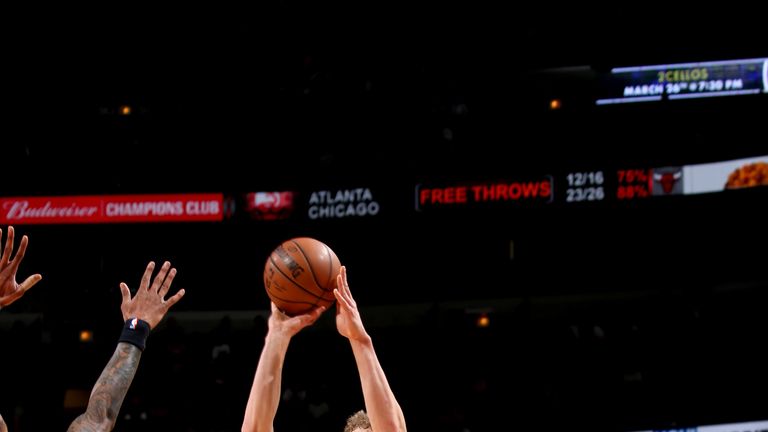 Click the video at the top of the page to watch Markkanen's long-distance buzzer-beater, then click the video directly above to see the 10 best plays from a busy Wednesday night of NBA action.
Want to watch the NFL or NBA on the Sky Sports USA channel but don't have Sky Sports? Get the Sky Sports Action and Arena pack, click here.